Torden — It's all hands on deck this week, as we're treated to no less than 4 absolute juggernauts of TF2 matches. We've been working overtime to get all the pieces together, and while there are still many pieces left, things are starting to take shape.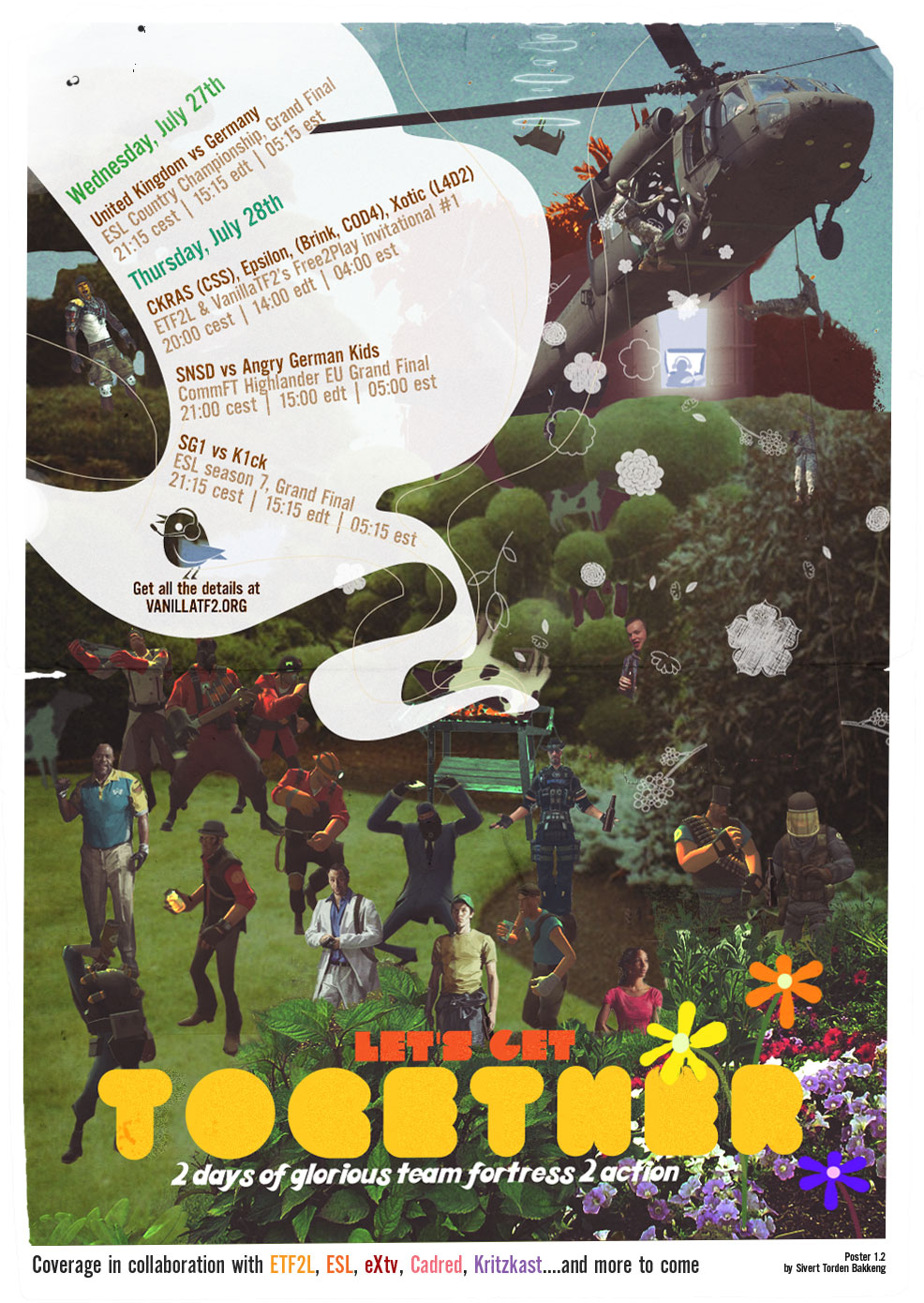 Please note: Due to time restraints, this post will get more details and information to it on the fly. The program looks like this:
Wednesday, July 27th:
United Kingdom vs Germany
ESL Country Championship, Grand Final
21:15 cest | 15:15 edt | 05:15 est
This game has already been announced here previously. It will be casted right here, by coverage old schoolers,

Admirable,

JimmyBreeze and

Yours truly.  There will also be UK comms on mumble and a secondary stream.  

HiScore.tv,

  Team-Fortress.ru, and

ESLtv are also set for casts in other languages.
Thursday, July 28th:
CKRAS vs Epsilon vs Xotic
ETF2L & VanillaTF2's Free2Play invitational #1
20:00 cest | 14:00 edt | 04:00 est

Ashkan has been working overtime with getting everything up and running. Now, we've finally got some spiked details for the game. European "Top10" teams will compete from Counterstrike: Source, Brink, Call of Duty 4 and Left 4 Dead 2:
It will be a standard vanilla ruleset, with Badlands and Granary. Each team has a medic mentor, F2 (CKRAS, CSS), Admirable (Epsilon, Brink), Skeej (Xotic, Left 4 Dead 2) and Knoxxx (Epsilon, COD4).
It will be a 1 night cup, including a final. The winner will face off a team of known faces sometime in the near future. The team looks like this:
TotalBiscuit (Youtube hero)
Robin Walker (head of TF2 dev.)
Jon Lippincott (head of Replay dev.)
Dr. Gonzo (Editor of Cadred)
theSucker (medic for SNSD)
Macisum (awesome demoman).
The match will be casted by Vanillatv's

Byte + TBA
SNSD vs Angry German Kids
CommFT Highlander EU Grand Final
20:30 cest | 14:30 edt | 04:30 est
Highlander is quickly growing, and with some of Europe's finest competitive players, the CommFT grand finals is looking set as nothing less than a spectacle. All the details can be found in the matchticker entry.
Vanillatv will cast this game with highlander extraordinaire

Hildreth and special guest

Agro, best known as a host of Kritzkast.
SG1 vs K1ck
ESL season 7, Grand finals
21:15 cest | 15:15 edt | 05:15 est
They had to do it on Thursday, didn't they! K1ck has plowed through 3 of EU's finest, including the recent ETF2L champion Team Thermaltake.  Can the finns put a stop to this madness?
No less than eXtv's

eXtine will grace us with his presence for this one, with yours truly getting the honor of co casting.