Trell — Update: The Quarter final between

 Energetic vs 

 Pyrogen was won by Energetic, and starting now;

 Admirable and

 Pledge will be bringing you live coverage of the first Semi Final between

LDLC.com and Energetic.  

 Warden will be continuing to stream for VanillaTV.


Droso — Sixteen french teams will gather at Insalan 7 in

Rennes this week-end. This french LAN is the first one to reach the "16 teams" threshold after more than 2 "Masters du Jeu Video" seasons (the previous best attendance record was reached at Gamer's Assembly 2010 with fifteen TF2 teams).
That impressive feat shows there is still a growing interest for Team Fortress 2 in France.
Since most top french teams have decided to attend this LAN, you can expect them to fight fiercefully and relentlessly to grab their share of the 1320€ total cashprice (which is pretty amazing since the entrance fee is only 19€). Here is the full prizes list.
660€ + 6 Logitech Keyboards G510 (value: 720€)
420€+ 1 HCG 400 + 5 Two-Cool 140 + 6 Reduction BuyKey 20%
240 € + 5 XL Microfiber Cleaning Cloth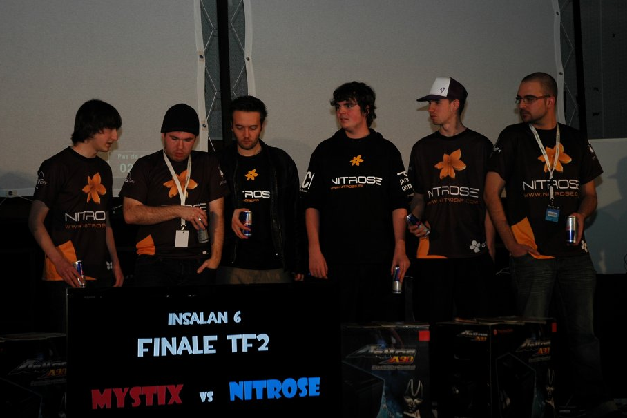 InsaLAN 6 winners (from left to right: wourson, GLP, KnOxXx, Flippy, pz and utaL) – Who's going to take their crown?
Two teams seem to be quite a step ahead out of everyone else.
BLAST:
Flippy
Payard
GLP
Slip
Flinn
Plapla
This team is obviously considered the most likely to win since they're the only french team to grace ETF2L division 1 of their presence. Aside from their european endeavours, they also won most previous french LANs.
LDLC:
Captsu
Cami
CroquePubis
dOnut
Torvick33
Break
These guys have been around since the dawn of time and are the biggest -if not only- threat to BLAST. As for their recent results, they're currently playing in Division 2B (where the real money is at ; Thanks Angel) and they won the most recent french lan, GAlloween, albeit BLAST wasn't attending.
Other notable contenders include:
ENERGETIC eSport: a Division 3 team
Une petite tasse de café ? c[__]: a Division 2/3 tryhard mix
Please note that the grand final will take place on Sunday at 14 CET and will be shoutcasted on VanillaTV by no one else than everyone's favourite Irish

Admirable and

ThePledge (streaming provided by

Comedian).