Chaplain —  As the sun sets on the first fixture of ETF2L season 13, a select few are left feeling satisfied that they have done all they could to win it or at least try and drag their team away from the oncoming train; and an even more select few will feel like they were the ones steering the wreck.
DDR RATINGS

The DDR rating is an arbitrary value that has been calculated by asking a load of prem players and myself to give a mark out of 10 for how well they perceived each player as doing. Players taking part in the game were only allowed to give values for the opposing team and all of the values have been averaged and standard deviation calculated.
Player-Rating/10 (σ)
Epsilon eSports


 KnOxXx – 9.6/10 (0.50)


 numlocked – 10.0/10 (0.00)


 Mike – 10.0/10 (0.00)


 GeaR – 9.6/10 (0.73)


 schocky – 7.5/10 (1.3)


 wltrs – 8.4/10 (1.3)
BFF

 Mirelin – 7.0/10 (0.93)


 kaidus –6.8/10 (2.32)


 Darn! – 4.7/10 (3.53)


CaptainHax (merc) – 6.2/10 (0.69)


 cookye – 9.0/10 (0.55)


 bybben – 10.0/10 (0.00)
For those of you that haven't studied statistics, that little squiggle in the brackets in the Standard Deviation – this helpful little value enables us to reflect upon how split the opinion was over this player; the higher the value, the more varied the panel's opinion was. Anything over a 2.0 is what I'd class as  controversial among our 20-something panelists and in this instance, the rabble rousers were kaidus & Darn!, who split the panel a considerable amount. The most valuable and least controversial players in this game are numlocked, Mike and bybben all netting themselves straight 10s across the board.
INSIGHT
After the game I caught up with kaidus and Mike for their opinions and a little insight about what went so right or so wrong for their respective teams:
kaidus – "Was a fun game. A bit disappointing that we (read: I) slipped in the last 10 minutes of gully, but we're happy with the overall performance. The result never really mattered to us, it was more just an opportunity to see how we're developing. Conveniently disregarding the last few rounds of gully, we're satisfied. If zeb[bosai] had been available we'd [have] taken badlands in my opinion, but [we] need to work on gully mids against epsilon as well as last defences (it'd be nice if in PCWs some teams would give us practice at defending last??)"
Mike – "GG and wp to BFF, we were surprised by how they played on badlands and were on our back foot for most of it, however we got used to their pure-dm style of play and managed to get a lucky cap right at the end due to a successful push. We got our heads together and resumed what I feel is our normal playstyle on gullywash and we were very pleased with the score on gully and of course the final score, just the start we wanted :). Although I felt everyone in epsilon played well, Bybben really stood out for bff and did so much work for them, his dm was insane tonight and he saved his team's behinds countless times with regular 3/4 mans, wp borje(?)"
A few of my panelists (who shall forever remain anonymous) gave abnormally low or high scores, and so I asked them for their opinions on the matter; this is what they had to say:
Panelist #1 -"Schocky & Wltrs just didn't make any impact because Bybben was on fire; epsilon couldn't handle him!"

Panelist #2 – "Well, Darn! did nothing, just look at his stats! He jumped into nothing, did no damage and basically swanned around for the game, poor show!"

Panelist #3- "I think Darn! has been poorly criticised for his role in Gullywash; a lot of his bombs and plays would have worked excellently if he had the backing of kaidus who was being utterly shut down and crushed by Epsilon"

Panelist #4 – "Mirelin was caught out way too many times and generally outclassed by KnOxXx, even on the close Badlands game, KnOxXx had 5 more ubers than Mirelin. Maybe it would have been different with Zebbo[sai]."
STATS
The DDR ratings & Insights are great tools; however, it's purely subjective. With the presence of TF2logs on the server we can draw some graphs and more conclusions and see what we come by:
So far so similar; although we do see a skew in the balance between cookye and schocky, and Darn! and GeaR, there is no real overall damage difference to worry about. However we do notice something very interesting we take Damage/Death into account. The damage per death of the Epsilon soldiers is approximately double of their BFF counterparts and kaidus has 5 more deaths and 165 damage less per death than numlocked (almost a fully buffed scout less). This doesn't paint a particularly accurate picture of how the game went, but these statistics are interesting at the very least and slightly revealing at best.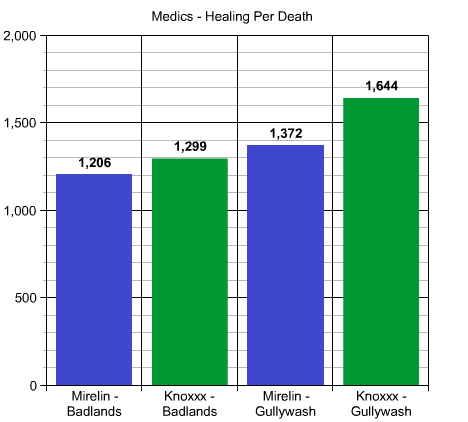 The Gullywash stats really don't warrant reading into too much; as you can see by the information in the logs, things were actually relatively close damage-wise right until the last third of the game where shit really hit the fan for BFF and Epsilon started to dominate. You can draw any conclusions you like from the logs here & here.
POST GAME JUDGEMENT
If you read my pre-game write up, you will have seen that I made a number of predictions about who was going to do what in the game; this is a summary and a little confirmation that I was right, like I am about everything:
Lynchpin – Wltrs
I think wltrs played passably in this game; I don't think he contributed quite as much to the game as bybben did, but I don't think he should be disappointed by his own performance.
Man to Watch – Numlocked
numlocked played really well, netting himself straight 10s all the way across the board, man of the match deserved.
Clash to Catch – Cookye vs Schocky
schocky really wasn't motivated before the game today, and it showed. cookye ftw.
Most likely to Choke – GeaR
It's always hard to pick a 'most likely to choke' award when all of the players in a game have been playing at such a high level for such a long time, however, GeaR managed to not only stave off a failure, but also gave a sterling performance, making me feel like my pre-game award was unjust! wp!
IN CONCLUSION
I feel that I could have gone much deeper into the stats and vods from this game, but this is already much longer than your average VanillaTF2 article; if you think this has been of any worth then I'll make it longer next time, if you think I have

Darkdwarfed all over the place in a realm that utterly doesn't belong to me, then please comment below and tell me; this was simply meant as me testing the water to see if this kind of content is something that is wanted in the scene.
I'll leave you with a great summary by the Epsilon lads in teamchat after the game:
Epsilon GeaR (team) : Deserved?

Epsilon numlocked (team) : no :D

Epsilon Mike (team) : I warped all over the place and got frags
This has been the Chaplain perspective and I'll see you next trainwreck.