Stooges
Musketeers
Billy Goats Gruff
Little Pigs
ETF2L Contestants
****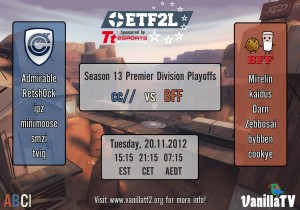 Chaplain — With only three teams remaining, there is only one match standing between now and the ETF2L Grand Final, and it looks to be a worthy predecessor to that long awaited event.

Crack Clan will be facing

BFF in the alliteration orgasm that is the penultimate premiership playoff, and although the ball ended up in BFF's side of the court last time, Crack Clan have been improving at a tremendous rate and may just eclipse the fastidious Finns tonight.
Crack Clan have proven they have the cohesion and ability to succeed after their victory against The Last Resort in the Quarter Finals, but the last time they met BFF in an official guise ended with tragedy. This is the lineup for tonight:
Medic –

 Admirable
Demoman –

 Retsh0ck
Soldiers –

Minimoose,

 ipz
Scouts –

 TviQ,

 smzi
I have a chat with master strategist and Dustin Hoffman impersonator,

Ipz, for his take on the rapidly unfolding events:
 Ipz – "BFF's key players are always going to be Kaidus and Cookye. When Kaidus has no pressure on him, their soldiers are free to intiate, and we intend to choke him as much as we can. He knows what we intend to do, so he will play semi-passive and pop his damage in thrilling crescendos, so if we pin down him and cookye then we will win. Darn will always try and make plays with his jumps to follow up Kaidus's damage, Darn is a good player, so even if there is no damage coming in from Kaidus, he will be dying for the team and distracting in an uncomfortable position. Sometimes their timing is off in the damage follow-up from their soldiers, and if we suppress Kaidus we will be able to take their soldiers down piecemeal. Zebbosai works from the combo quite a lot, so we hope to smash them on the flanks and stifle their expansion. We are coming in strong from our game versus TLR, and we hope to defeat them and go on to face Epsilon in the final. "
BFF have had a few slip-ups this season, but have still got the victories where it counted and secured the second seed in this competition. The game tonight will be their most challenging game so far, and they intend to rise to the challenge:
Medic –

 Mirelin
Demoman –

 kaidus
Soldiers –

 Darn!,

 Zebbosai
Scouts –

 cookye,

 bybben

Mirelin has a few words for me:
Mirelin – "Well, since a long time ago we started to spend our free time in the bar named "Twisted Boob". We were drinking really hard and most of the time we were constantly trying (in the hard drinking condition) to figure out, what do we need to do to win!? Since life is very cruel and hard, we had to deal with our internal problems first. Which problems? I hear you cry
Darn was always afraid to not suicide, because he had an accident in his life when he was young – his best friend was shaking his ass with a nettle. After long and persistent conversations we successfully managed to deal with his psychological fear and now pretty much he enjoys to suicide together with zebbosai.

In the start of the season I was afraid to dodge. Thanks to bybben and cookye, they constantly invited me to the pubs with skanks and eventually I overcame my fear. Now I am dodging every single rocket and pipe and I'm completely not afraid of ponies anymore!!

And in the result of that all we achieved the DISCIPLINE! Now we are in the finals!

Everything what we need, it's us! In BFF we are the most beautiful people in the world besides that we are very smart and pretty and sexy. We always reached the success, no matter if that was CommanderX touching my butt or Admirable wanking on my medic skill. And in this time, in that game, holy shit no doubt that we will success once again, just as we succeed with our internal team problems. I am sure, absolutely.

Well, if we won't success, then we will just go pub to the dissolute girls to deal with our internal problems once again and for the Jesus Christ we will show ourselves 100x better in the next season for sure! Btw, I pity Darn. ALL HAIL IGORNIA"
Now for some predictions:
Lynchpin –

Cookye
Cookye is a massively capable player and is an integral part of every BFF venture. If he turns up ready to rock tonight, then Crack Clan will be swimming against the tide.
Man to Watch –

TviQ
Swedish boy wonder, TviQ, has been playing at the top of his game recently and if he climaxes today, it could be a glorious thing for everyone involved.
Clash to Catch –

Kaidus vs

Retshock
Two brilliant Demomen, one mid point. I think Kaidus goes into this match with a smug air of superiority after he got the better of Retshock last game, but today is a new day and the FIFA aficionado is difficult to predict.
Most likely to Choke – 

Darn
Darn is a very capable player, however his strategy utterly relies on his demoman to provide damage and support. If Kaidus is suppressed, it will mean that Darn will be jumping into a proverbial pit of spikes, and will be impaled 6-on-1 in a red mist of disappointment. However, if the damage is there, it will be an utterly fantastical venture for him.
The action will begin at 21.15 CEST, featuring the amazing

 Arx & Beta combo and 

Comedian on the stream; see you there!

Skidmark Central kaidus, bybben, cookye, Darn, Zebbosai, Mirelin


Crack Clan

ipz, smzi, minimoose, Retsh0ck, tviq, Admirable
(37 comments)
---
TIME
Tuesday November 20th
21:15 cet
15:15 est (na)
07:15 est (aus)
CASTED BY
SOURCETV
Who will win this match?
BFF (71%, 25 Votes)

Crack Clan (29%, 10 Votes)

Total Voters: 35

Loading ...
---
---
*Poster created by Datenshi