Byte — Dull days for VanillaTV, with added heat coming from the few individuals who have decided to part ways and help another casting org for this game we love, Team Fortress 2. I myself am feeling the heat within the organisation, people doubting how I would cope and others curious as to how I would react to such a fierce action of another org coming into Europe. Of course I am talking of none other than Teamfortress.tv. Great initiative set up by Enigma, Lange and co, hoping that it goes well. Will be interesting to see how the next 6 months goes for them.
Obviously with some key individuals leaving such as

Comedian and

skyride, one would think we'd crumble, turns out nobody knows how I work nor VanillaTV works consequently. With other staff trying to lay a hand for tf.tv this has made it near impossible for VanillaTV to continue at a high quality pace and still deliver. So unfortunately VanillaTV will be…………………………………………………………….expanding.
"Wait what?"
It has been hard work for myself to get the motivation going inside VanillaTV, pester people, make people fall out with me by trying to get things done, but has done justice with how we have portrayed ourselves this season so far. I don't think ETF2L have any complaints far from it, more so compliments for our coverage.
Not just ETF2L but the community, I think and believe the majority are happy with how efficient VanillaTV have been with coverage. Obviously we have the "critics panel" who we can never please (the ones who type their hostile opinions but never actually contribute anything, you can guess the names). Also trying to mix the pot by bringing in new staff: casters, streamers, article writers, admins and PR's has made it worth while.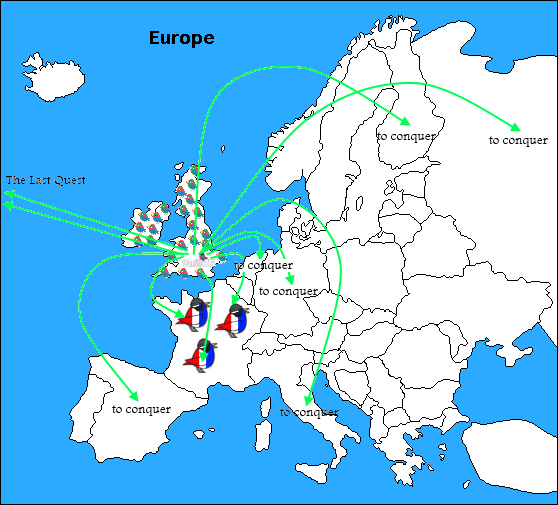 VanilaTV's ever lasting quest…
It's been coming, with various requests from other nations in the EU asking to be supported by VanillaTV. The rightful playermakers of VanillaTVfr, are

Luzzu and

Pognon. Although my french listening is not the best, the casting they do, the quality and how they present themselves is very much to VanillaTV standards, and I am very happy to have this

nation and the selected members in the team.
So what does this mean? Well with respect to VanillaTV's main stream nothing changes, the main stream will always be in english and still the same link. However when

VanillaTVFr cast, they will have a separate stream, but eventually linked as a team stream, co-joined with VanillaTV's main stream i.e. a "team page" as they call it at Twitch. This also means that other language casting stations will have the same treatment of proceeds and support in the future.
Our vod's will be uploaded to the same place as well, all under one youtube umbrella, so that all content can be found in the same place, initially the production of these additional vod's that need to be uploaded and formatted will take us sometime to get through, but we will get through them!
We've had in the past many different language casting stations approach us, but as we were growing ourselves at the time, we could not cater for them. Now that we have managed to settle and hopefully bring a new portal to display our work soon.
We and I especially feel we should support the community, whether it's

Australia,

Russia,

Germany,

France and so on. Our support can help obviously with various LAN's including some funding due to the generous donations we receive and also partnership money made. Not only this but other resources we possess like our sublime and very unique HUD, and overlay resources, graphical assets and so on. More tool's coming out from the one and only

Arie, like the live stats of damage done and kills and various other things, as "something" twisted his arm, guess you can figure out what that was :D
A brief statement by the baguette loving frenchies

Pognon and

Luzzu <3:

Pognon: "Luzzu et moi sommes très fiers de rejoindre la bande de rockeurs de VanillaTV – Quand nous avons commencé………….."

Byte: "No no, not in French you douche!!"

Pognon: "oh sacre bleu! :O"

"Luzzu and I are very proud to join the VanillaTV rock band – when we started to cast together, 18 months ago, I recall we were sorta trying to put in our cast the same energy and the same knwoledge we could hear in VanillaTV casts. Shoutcasting the game was a new way to enjoy it, we discovered that our personalities were complementary, worked together on the best rhythm to comment a game with both entertainment and in-depth analysis.
Of course, we'll still cast in french, as our English knowledge isn't good enough (we would look like fools if we were trying to cast in English, my accent is worst than Abra's 's). The tree is growing, and we'll stand on the french branch of VanillaTV. Thanks to all the VanillaTV staff who's welcoming us in their crew, and allow me to end this speech with a french kiss to Remitche, who's doing a great job over the years by giving his time and passion to TF2
When I spoke to Luzzu, he said he was really glad that VanillaTV are willing to support them, get them under the roof and apparently that the french community are very excited by the movement of this, so I and we @ VanillaTV are very happy and welcome the French VanillaTV bird as one of the family!
One last thing I'd like to mention on a personal level and I'm sure most of my staff know it, is that I will never let anyone bring me or what I believe is a good org in this case down it has the opposite affect, you'd have to take VanillaTV and then me too down. This org is so far is volunteer based, but my staff all have a fair say and vote on anything but within a controlled zone this applies to any language casting station joining VanillaTV going forward.
Incidentally, if you wish to participate and help VanillaTV, then we could do with the help, with more positions being made and more of our resources needed, we will need the staff. Whether it's PR work to setting up the games that need to be casted. Any kind of help is worthy help, so please contact us via this form or alternatively join #vanillatv @ quakenet, and speak to Byte, Trell, CUBE or Skully.