beach — Another season is drawing to a close, and with just a few matches to go, today we have what could be one of the most epic games of ETF2L Season 15 so far. That's right ladies and gents; broder, the team who almost toppled Epsilon last season, are facing off against Zaibatsu.

Broder tonppa, jukebox, bybzii, Mirelin, ryb, Zebbosai


Wu-Tang Clan

Brego, T-Mac, TviQ, ipz-, smzi, 2nuts
(16 comments)
---
TIME
Thursday June 27th
21:15 cest
15:15 edt (na)
07:15 est (aus)
SOURCETV
Who will win this match?
Broder (87%, 27 Votes)

Zaibatsu (13%, 4 Votes)

Total Voters: 31

Loading ...
---
---
This season has seen many upsets: a team containing arguably Europe's best Demoman

kaidus manage to win only 1 game outright,

Darn ragequitting due to his refusal to play at 90 fov (okay maybe that wasn't so surprising) and Zaibatsu themselves leaving the Crack Clan organisation despite being Kings of community spirit. However,  one thing that is not surprising at all is the composition of the top 3 teams in Europe at the moment: Epsilon eSports, broder and Zaibatsu. Epsilon are of course in the top spot at the moment, sitting on a maximum 42 points, with Zaibatsu and Broder hot on their heels with 30 points a piece.
The rosters

Broder
Medic –

Mirelin
Demoman –

ryb
Soldiers –

Zebbosai and

jukebox
Scouts –

bybben and

tonppa

Zaibatsu
Medic –

2nuts
Demoman –

Brego
Soldiers –

ipz- and

T-Mac
Scouts –

TviQ and

smzi
With two teams so tightly contested, it's hard to predict who will come out on top in terms of individual performance. Many of broder certainly have experience on their side, but Zaibatsu gave them an amazingly close game in the recent ESA Open Semi-Final (watch the VODs here).

TviQ will almost certainly pick up the sniper rifle, as will

jukebox; the question is, who will win the battle of the Swedish super-snipers? In terms of the Demomen,

ryb is quite often outdamaged by pocket soldier

Zebbosai (and occasionally

tonppa!), which leads me to suggest that German powerhouse

Brego might have the upper hand tonight in terms of that raw damage output, but if ryb brings his A-game, he can certainly keep up with these young whippersnappers like Brego and will dominate Zaibatsu on those crucial mid battles.
Most recently, broder have played Epsilon on the two maps being played tonight (cp_badlands and cp_gullywash). In what seems like two very close matches, broder managed to beat the reigning champions 5-4 on Badlands, but lost 4-5 on Gullywash. This result clearly shows that broder are practising and mean business tonight, and will be looking to play their absolute best in order to guarantee themselves the maximum 6 points and that all-important 2nd place in the table going into the playoffs. On the other hand, Zaibatsu played some form of RLM-esque mix team on Tuesday night, coming out with an absolute roll on Gullywash, winning 5-0 in just 15 minutes, but losing 4-5 on Badlands.
Results so far
broder: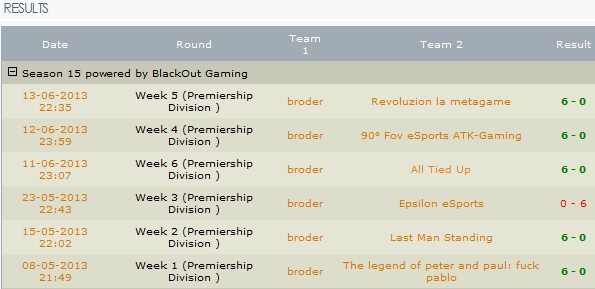 Zaibatsu: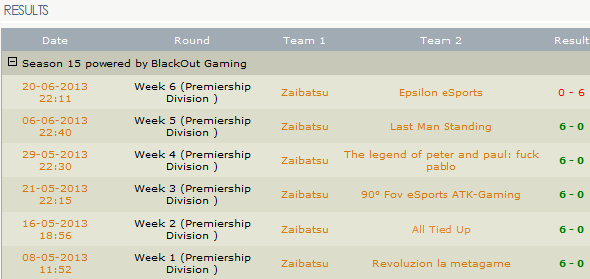 A perfect record for both sides apart from their games against Epsilon; there could not be two more evenly matched teams at this level, so the game tonight is crucial for both teams – for the chance to go into the playoffs from 2nd place, and also for their pride, pure and simple!
Comments from the teams
Roving reporter Arie briefly managed to catch up with broder's super-soldier Zebbosai, and asked his thoughts going into this match:
broder Zebbosai: i just hope we win tommorow and then we can pick 2 maps during playoffs
broder Zebbosai: cause all the others best of 3 vs them they have picked 2 maps
broder Zebbosai: so its been super hard for us
broder Zebbosai: and if we can have that advantage we should take it easier
Zaibatsu captain ipz had this to say:
i p z -: T-Mac will snipe the whole map
i p z -: and it will be a nice match :)
Arie: Pledge predicts a tie, so you'll have to play decider matches. After sundays ESA match, that seems quite likely!
i p z -: Ye, we wont stop playing broder for the next 100years it seems, can you feel LAN? I can feel it now
That's all folks, so tune in to VanillaTV live from 21:15 cest with your hosts

Arx and

Beta, along with all-day endurance streamer and No. 1 Admirable fan

DavidTheWin.