Arie — Late last night

 Admirable,

 Zebbosai,

 ipz and

 numlocked met online for a very special 3-part interview/drinking-game about everything related to premiership TF2.
A whole range of issues was discussed in the interview, things like unlocks, ESA, maps, LAN and the reason why the top 3 EU are untouchable at the moment.
There was one special catch to this interview: In the 3 parts each lasting one hour, every person was required to take a shot when any of them used their typical catchphrase:
ipz: "E-T-C"

Zebbosai: "I don't know"

numlocked: *laughing like a girl*
According to Zebbosai, they drank the most to numlocked's laugh. The full results of the interview will be published in 3 parts by Admirable on ETF2L, but I can already spoil that one of the interviewees didn't make it to part 3: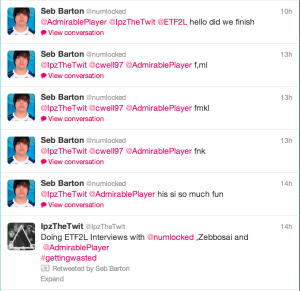 And with that

 Epsilon eSports perfect record since i46 comes to an end, their first defeat thanks to the combined efforts of Admirable, ipz and Zebbosai!