SuddenlyStarMia — So it has been barely one week since i49 and already there have been rumours and speculation flying around about roster changes, new additions and which teams will make it or break it. As with any big LAN, there are always repercussions into teams wanting to fold, or find a fresher start, to aim for that 'ultimate' world champion status. Now that we find at least one American team always coming to i-series summer event along with financial support for the Aussies, everyone seems to want to live the dream. Some wish to take a break, as the stress of practicing every day, and having to deliver is too much. Some want to partially leave just so that they have a string of love for the game. Going by the rumours and gossip, along with the confirmation from certain TF2 members, we now have a vision of what teams will now look like at the top for next season.
Epsilon esports
We're starting with the team who finished first at LAN here. With arguably the best Medic in the world,

 KnoxXx, hanging up his MediGun and retiring from TF2,

Raymon has been drafted in as a replacement for after i49. However, the question now is, will

 Raymon even be able to play a Season 16 official with Epsilon?

 Mike, the man dubbed as one of the best Soldiers in the world has had several different rumours being thrown about: he is taking a hiatus from TF2, he is going to main Scout for Season 16 and he is quitting TF2 completely. I have spoken to

 Mike himself about what he is planning to do for the next ETF2L 6v6 season:
Mia: Are you quitting tf2 or taking a hiatus?

Mike: Neither, we're going to play 1 night a week, after a break

Mia: I heard you were considering maining scout for next season – is it true?

Mike: No :p it would be nice but Bash and Stefan are staying :)

Mia: How are things going with Raymon instead of KnoxXx?

Mike: We haven't really practiced since KnoxXx stepped back, but we've used Raymon in cups before (e.g Dignitas) and won convincingly vs good teams so it should be fine.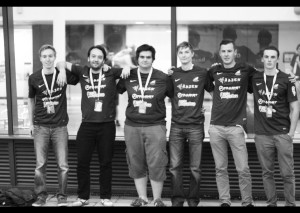 Demoman,

 numlocked has also offered his views on what is to become of Epsilon:
Mia: What's going to happen with Epsilon for season 16?

numlocked: We're continuing with Raymon in place for KnoxXx, and KnoxXx taking a management/coach position in Epsilon

Mia: I heard rumours that you guys might have been breaking up?

numlocked: Nah, we were tempted to take a break for a long time, but may as well continue and take it slowly for ESEA and ETF2L

Mia: How do you think you guys will fare in season 16?

numlocked: Is that really a question :D

Mia: Yes :P

numlocked: How does anyone think a team that has been unbeaten for a year will do?

Mia: I'm not sure, you tell me

numlocked: I think we'll do the same thing we have every season.
Epsilon e-sports: Medic – 

Raymon, Demoman – 

numlocked, Pocket – 

Mike, Roamer – 

Gear, Scouts 

schocky & 

basH.
High-Rollers Gaming
Going from the best team in Europe to the best team in North America, they both have been hit with the same issue: their main Medic leaving. With uber-milker

 Shade leaving competitive play to focus on real-life and will be replaced by

 Indust from Apocalypse Gaming. HRG Pocket

 Lansky uploaded a YouTube video explaining the roster changes on Saturday morning. With confirmation from

Cyzer himself that he has been cut from the HRG roster in lieu of

 b4nny playing Scout and

 rr- from Mad Men joining them as Demoman. I've spoken to

 b4nny about the prospects of the new HRG without their Leviathan scout and his new career in invite as, well, not a Demoman:
Mia: How do you feel about the new HRG roster?

b4nny: I am excited about our new roster. Obviously the biggest surprise is that I am now playing scout, but I dont think that its as big a deal that I am not on demo as a lot of people have said. There were issues with the old roster, mainly between myself and Lansky – we played the same role more or less [and] it ended up causing a clash. The idea is that I no longer overlap with Lansky if i play scout and the communication will be much stronger on all fronts now, instead of just having a lot of information about the heal-heavy side of the map there will be more flank calls and co-ordination because I will still be communicating a lot – more than we had before especially

b4nny: Our new medic is Indust, he is the most dedicated medic I have ever seen. That is what caught my eye, even when he was playing in open – I knew he deserved to be in Invite

Mia: What's it like playing scout instead of demoman?

b4nny: I play demo completely differently than I play scout. On demo, I was apparently a very slow player – more defensive – because i would always be thinking about possibilities and trying to shut them down. Honestly, I would say I was overthinking; but I would still see the openings and wish that I could take them but felt limited by my class and the importance of having your demo alive to control the map

b4nny: Scout allows you to go for those openings and to take risks and to catch people off guard, or just flat-out embarrass people and that makes it rewarding

b4nny: Then again, it is much easier to get shut down, so you really have to work on your mistakes. On demo, I felt like I could always play somewhat well, but on scout it will be a challenge to stay consistent

b4nny: The other playstyle thing about scout was that I can be another initiator for our team, which seemed to be lacking before. I would be walking around as demo leading pushes because I was the first person ready to go, but demo can only walk basically – scouts and roamers are so much more mobile [that] they make for better initiators and you can't wait all day for that – your initiators need to be ready first, and now I will be ready first :)

Mia: Is the team playstyle any different with rr- and Indust?

b4nny: Yes. rr- is much more aggressive, he's willing to sticky jump in and deal crazy damage – something I rarely ever did. But hes a really solid player and that's really all it takes to play demo. Honestly, he is better at dealing with the basics than I think I am – I would often mess up things that seem so easy like spamming people off a point or something

b4nny: As for Indust: he communicates a lot more than shade and he emphasizes uber building a lot more too. But he probably won't be the one changing our playstyle to be honest – everyone else is going to be playing fast so he will be adapting

Mia: Why did you remove Cyzer from the roster when statistics show that Shrugger performed worse at LAN?

b4nny: It's not about statistics, it's just a matter of how people get along, and what each player brings to the team – their mindset is just as important. It's a matter of how good a teammate someone is, so comparing stats can be very misleading – it was a team decision, not just a gut reaction to some mistake that was made. Plus, it felt like time for a change – I have played with Cyzer/Shade for years, new people, and a new class for me. Its going to really freshen up the game

Mia: So what was the exact issue with Cyzer?

b4nny: I think I already explained that

Mia: As in his mindset?

b4nny: Yeah, and I dont really want to dwell on it

Mia: Ah okay

Mia: How do you think the new HRG will fare in the upcoming ESEA season?

b4nny: I think we will do well, I could see us making LAN – we have the experience and the dedication and we might just be in the grand finals again. But I don't expect things to go perfectly, we are treating this as a new team and so a bumpy ride wouldn't surprise us. There will be a lot of new teams and they will all be good, so I expect a good season. I respect all the teams, and I love seeing everyone give 100%. It's always going to be the team that is the most prepared that will win, so if we work hard I think we will do great

Mia: Do you think we'll see you again at i52?

b4nny: I'm not sure. I consider myself lucky to have even attended one i-series LAN, let alone two – a third would be ridiculous. I am curious if the community will be pushing for it again and a lot can change in a year, so we'll just have to wait and see…
High-Rollers Gaming: Medic – 

Indust, Demoman – 

rr-, Pocket – 

Lansky, Roamer – 

Taggerung, Scouts – 

Shrugger & b4nny.
Team Immunity
Now we're skipping over to the team on the other side of the globe: AUS/NZ's Team Immunity, who made it to the lower-bracket semi-finals before being knocked out by TCM (broder). With rumours flying that their one Scout

 antwa was leaving the team, I spoke to iM's Sniper and occasional Scout-offclasser,

 Sheep, for more details:
Mia: How have iM been doing since LAN?

sheep: We haven't played at all because we just got back to Aus yesterday

Mia: I heard that antwa was leaving the team – is this true?

sheep: He's finding work overseas and probably won't play TF2 anymore

Mia: Do you have any ideas on who he is to be replaced with?

sheep: We haven't made plans or started looking yet

Mia: And will iM be attending i52?

sheep: If the community helps us get there we're happy to. but without funding it's too expensive – we are severely out of pocket even for this LAN
Team Immunity: Medic –

 bonobo, Demoman –

 bulk, Pocket –

 yUKi, Roamer –

 aporia, Scouts –

 Sheep & ?
broder (TCM)
TCM did very well at LAN – not many expected them to be in the Grand Finals, but after speaking to the (slightly inebriated) Americans and Aussies on Sunday night after the grand final, both teams were surprised that broder managed to do so well, considering that predictions were previously a three-way toss-up between Epsilon, HRG and iM for the finals. With broder looking strong in the offseason and with Epsilon having a roster shake-up, surely this would be their time in the limelight for the team that were second in both S14 and s15? Rumours say the contrary, with reports that

 Zebbosai is now trialling for infused and rumours that

 Mirelin would follow him if he should join and replace

 2nuts. I spoke to

 Zebbosai about these rumours:
Mia: How are broder doing after i49?

Zebbosai: We are folding

Mia: Why is that?

Zebbosai: Jukebox, kukkye, bybben can't play – too much school/work for now

Mia: Do you think you could have recreated broder with new flank classes?

Zebbosai: We probably could have yes, at least if zappis agreed to continue, but I dont really wanna play pocket soldier anymore – probably not soldier at all

Mia: I heard you were trialling for infused?

Zebbosai: Yes I'm trialing for infs as roamer then for eibenfuii as demo and maybe trialing scout for mirelin's new team but I think they had alot of scouts in mind allready and they wanted me to play soldier but I dont really wanna do that

Mia: How are these trials going?

Zebbosai: I've only played for infs so far so cant really comment on that playing with eibenfuii tonight

Mia: I heard that if you were to join infs, mirelin would follow you as medic?

Zebbosai: Not something I've heard, i doubt ipz would kick 2nuts. 2nuts is getting better and better for every week and they have already established teamwork there, so don't see that happening

Mia: So how's it going with SOLAR?

Zebbosai: I haven't played with them yet so cant answer it very good – playing with them tonight but on paper I think it looks really good + I get too play demo :D

Mia: Why did you not want to play soldier anymore?

Zebbosai: Played it for a long time – I can consider roaming cause offclassing is so much fun, but I dont really think iI wanna main call and playing pocket when I'm not main calling, I would get really frustrated

Zebbosai: But if I play for eibenfuii I'd probably end up calling alot anyway, but Hycz can call too so then we could work together and its not just me, so that is nice
It seems as if the broder-ly love is running thin as long-time players

 jukebox,

 cookye and

 bybben are growing tired of the game. I asked everyone's favourite bad-boy Medic,

 Mirelin, as to his own situation:
Mia: What's the situation with the broder roster at the moment?

mirelin: Don't eat hamburgers , uvu

mirelin: Will make you fat

mirelin: Broder – nothing serious

mirelin: Zebbo bailed out; Bybben lost any interest in to the game; Cookye took a very long break; Jukebox can't play, he has to study and he is going to move

mirelin: I want to play; Ryb wants to play – the end

mirelin: Broder roster is fucked up

mirelin: But I'd like to create my own team

mirelin: And start main call

Mia: Why did Zebbo bail? Because the others left?

mirelin: That is the main case, of course

mirelin: But, like, he planned to do that after i49 because he was bored to call, because we had confrontations with him in the past – like, a lot

mirelin: Before i49 he was even saying to ipz, that he would like to play in a team without me :3

Mia: So where will Zebbo go now?

mirelin: Maybe solar as demo

mirelin: Maybe infs as roamer

mirelin: Or maybe my new team as a scout?

Mia: If you made a team, would it still run under the broder tag?

Mirelin: No maybe… Team Igor? :D
broder – Medic –

 Mirelin, Demoman –

 Ryb, Pocket – ?, Roamer – ?, Scouts – ? & ?
Team Infused
As we woke on the Sunday morning of i49 and prepared ourselves to see the top four battle it out for a place in the final,

 Tviq had different ideas as rumours flew around that he was leaving the 3rd best European team, which he confirmed by leaving the ETF2L roster on Tuesday. Reports have been coming in that infs are trialling

 Beavern as a potential replacement, who has come back out of retirement. I spoke to the SNSD Sniper about why he left infs:
Mia: Why did you quit infused?

TviQ: I dont want to play tf2 anymore – not 6s at least, so i just quit and focusing on other games – Dota or CS:GO

Mia: Did infs practice for LAN with winning or placing well in mind?

TviQ: Of course we practiced – everyone did

Mia: Have you been deliberating quitting tf2 for a while or was it a recent occurrence?

TviQ: I said before the last season starts that I will quit after i49, so a long time ago

Mia: Have they got any thoughts on who they will fill your scout slot with?

TviQ: I have no idea

Mia: If infs placed top four at LAN, would you have stayed with them?

TviQ: No

Mia: Will you still play for SNSD?

TviQ: Yes.
Alongside needing to find a new Scout, infs are to find a new roamer after rumours that

 T-Mac followed the path of

 Brego after a less–than–impressive performance at LAN. I heard from the captain of the English national 6s team,

 Spin, that

 kaidus could not play for them until i49 was over due to the sheer amount of practice infs were putting in for LAN. With the lives of the two teams that could solidly defeat them in S15 in limbo, could Season 16 be infs' time to shine? I asked rollout expert

 kaidus for his thoughts:
Mia: So what's happening with the infs roster for next season?

kaidus: Well T-Mac is leaving to focus on other commitments, Tviq left cause he's bored of tf2 and is just part-timing highlander from now on. We played a few games with Zeb on roam and Beavern on scout but it was pretty casual so can't conclude too much from it. We'll see in the next week or so who the replacements will end up being.

Mia: So what if  Zebbosai wants to join infs?

kaidus: Ipz has never been keen on extended trials so if he wants to join I imagine we'd just take him, but I think it largely depends on a suitable scout. Beavern played well but like I say the games weren't suitable to determine much.

Mia: What are your prospects for next season?

kaidus: Well as long as we can at least maintain our level from before i49 we should be well in the running. Epsi will still be a mountain to climb but without KnoxXx they become a lot more beatable so first place will be the target.
Team Infused – Medic –

 2nuts, Demoman –

 kaidus, Pocket –

 ipz-, Roamer – ?, Scouts –

 smzi & ?
A New Era?
With a massive shake-up of the top Premiership division teams, even if Epsilon and broder fight in Season 16, it will likely be with weaker rosters due to Epsilon playing a lot less and a full broder seeming very unlikely. After seasons of stagnation and Epsilon holding 1st place in Prem since Season 12, could this be a new Prem not dominated by Epsilon? I'm in particular looking at the teams that tied in fourth place last ETF2L 6v6 season: SOLAR (or eibnfuii) and Revolution La Metagame. SOLAR surprised many with their performance last season. After a shaky start against the top three teams, they tied fourth with RLM before losing a spot in the title playoffs in a tiebreaker match. I spoke to

 Hycz about SOLAR's prospects for the new season:
Mia: So what's SOLAR's line-up for Season 16?

Hycz: Myself as pocket, qnx as roamer, LilCeder on medic, Bradley (cor) and Steve (maidu) on scout, we are pretty sure who is playing demo for S16 but nothing i can spoil yet!

Mia: So Lalli is leaving?

Hycz: Uhm, yeah sort of – alright yes he is

Mia: How comes?

Hycz: For the sake of Lalli I'm trying to say this in a nice way ;P

Mia: Oh?

Hycz: Lets just say that Lalli's and our attitude was a bit on different levels and we needed a change, so thought it was best if we part ways

Mia: Ah I see

Mia: So how do you feel about your prospects for s16?

Hycz: Well with the new demo i feel like we are gonna do good.. better than before. But I think with Reverto and Furbos Pandas is coming in with S16 – they are really strong too. So we'll just have to see

Mia: So when will you reveal your new demoman?

Hycz: I can make a personal message when it happens,  go like "YOOO its HIM"

Mia: Haha
RLM have also had a roster shake-up, picking up ex-cc// Demoman

 Brego as an upgrade to the now-inactive

 Mark, and also

 slate and

 WalkeR from the former Trick17. However, they have lost

 Flippy and

 Tek, who had optimistically reunited with PunchLine and no longer have the pistol power that is

 quad on Scout, leaving them with

 wltrs alone. I contacted

 iliketospin regarding the new RLM:
Mia: So what's the roster for Season 16?

Spin: So far: Snyyppis on roamer, slate on pocket, Brego on demo, wltrs on scout and WalkeR on medic

Spin: There is some doubt over wltrs scouting and they're yet to confirm a second scout but they played with Beavern a lot

Mia: You won't be playing?

Spin: No i'm not playing, I took a month off because of difficulty getting online when I moved house; I'm since back but we agreed it was a good decision to continue with WalkeR who played for the month

Mia: So how are you feeling about RLM's prospects for S16?

Spin: No idea to be honest. When I was playing, I was kind of confident – there are a lot of team shakeups so there isn't really a lead in terms of experience together for any teams

Spin: Brego joining is a huge boon for them because he's just a crazy player

Spin: But it really hinges on the scout pair – wltrs is great and getting Beavern would put them in contention for the top spot in my opinion, although I don't know how WalkeR is doing – they seem confident enough that he can do well.
Of course, Prem isn't complete without the new additions.

 E-thug from Reverto, the team that won Division 1, offers his thoughts about their first season in Prem:
Mia: Has Reverto's roster seen any changes for the upcoming season 16?

E-thug: Oh Reverto has been turbulent for a while now. Just last season we had alba quitting, but we had aephage lined up to play with us. But because he wasn't available at the time we had to play a couple of officials without him. But he's able to play this next season for us and were quite happy about that. Following that we had Maffi leave us this offseason as well. Maffi decided he wasn't fit for competing in prem because of his newfound girlfriend that he wanted to spend more time with. So far we've had a couple of good trials but there are still more people we have to trial.

Mia: What does the tentative roster look like for season 16?

E-thug: Scouts – E-thug, Aephage; Pocket – Stark; Roamer – Rising; Medic – BaR; Demo – ? as of yet

Mia: How do you feel about your first season in Prem?

E-thug: I'm intrigued and excited. Theres a lot of challange awaiting both myself and the team. But I do believe we have what it takes to achieve something
Lastly, I spoke to

 Hildreth about Prem's newest confirmed addition: Team Decerto and also for his opinions regarding the future of Prem, since he seems to possess the ability to predict the future:
Mia: What's your line-up for s16?

Hildreth: We're now named Team Decerto

Hildreth: Lineup is Me – Demoman, Bulle – Medic, Scouts – Sheepy + Furbo, Pocket – Zooob, Roamer – Sideshow

Mia: Are you feeling confident for your first season in prem?

Hildreth: Hmmm, depends really on the strength of the teams post i49 – realistically we're fighting for avoiding relegation but we have to go into the season with belief in our ability to make playoffs, otherwise no point in playing if we don't believe we can achieve something more than previous Decerto rosters

Mia: Do you think prem will be different this season?

Hildreth: Considering it's our first season of Prem, it's much different to anything we've ever faced, overall the skill level is going to be lower as it is when great teams/players leave the game so it gives us a chance to make an impact, but the mid-prem teams like SOLAR, RLM, Reverto and if they're playing, Frenchies are all probably slightly better than us, but on our day I feel we can beat anyone of them, we got a lot to improve on, it'll be a fun challenge for a new team like us.

Hildreth: New to Prem team that is.
Has the aftermath of i49 given some wiggle room for the lower teams to shine? No definitive top three but more of a competition between all the teams in the division? The sign-ups for ETF2L Season 16 have just opened, so we will just have to wait and see…